Dynara Mamyrbekova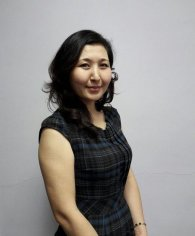 Education
1999-2002 – EKSU College, Ust – Kamenogorsk, major "Finance", qualification "Economist, Tax Inspector"
2002- 2004 –EKSU named after S. Amanzholov, Ust – Kamenogorsk, major "Finance", qualification "Economist – Financier", Academic degree: Bachelor of Finance
2004-2006. – EKSU named after S. Amanzholova, Ust-Kamenogorsk, Master Degree in major "Economics", qualification "Economist, public sector manager", Academic degree: Master of Economics
Additional Information
Head of Scientific Student Circle "Research of Problems of Financial and Economic Activity in Conditions of Modern Kazakhstan" that has been functioning since 2012, has united 60 participants from among students of department.
Head of team "BOLASHAK" on Regional Students' Subject Olympiad on Economics in 2015
Head of KAFU ENACTUS team of Republican Contest "ENACTUS KAZAKSTAN EXPO 2015"
Participation in organization of VI International Forum of Young Scientists "Modern Scientific Directions: from Applied Research to Innovation" March 25-31, 2016
Preparation and participation in International Research Conference "Innovative Potential of Modern Science", Ust-Kamenogorsk branch of Russian Economic University named after G.V Plekhanov.
Preparation and participation of team at Republican Scientific Projects Competition on Marketing and Sociology "KAPIOR" March 4, 2016, Almaty
Participant of round table "Perspectives of Tourism Development in RK" EXPO 2017. Ust-Kamenogorsk, EKSU named after. S.Amanzholova (Expert), 2016
Constant participant of Practical and Scientific Seminars, conducted on basis of KAFU
Participant on Business-Counselor project courses, organized by Ministry of Economic Development and Trade of Republic of Kazakhstan and JSC "Damu" Entrepreneurship Development Fund under Business Road Map 2020 program.
Member of International Servant Leadership Principles Course
Participant of "Current State and Development of Tourism in Republic of Kazakhstan and East Kazakhstan Region: Problems and Ways to Solve Them" seminar
Author of scientific articles in State, Russian and English languages.
Main areas: Green Economy, Banking Operations, Psychology in Entrepreneurship, "Ways to Enhance the Professional Skills of the Teacher", "Entrepreneurship Psychology as the Main Development Factor of Modern Business", "Problem of the State Support of Business", "Conversion from Private Funded Pension System to Unified Pension Fund of the Republic","Problems of the Industrial and Innovative Development of the East Kazakhstan Region "," Transfer from System of Private Pension Funds to United Pension Fund: Case of the Republic of Kazakhstan »
Reading Discipline
"Economic Theory", "Management Accounting in Accordance with IFRS", "Money Credit Banks", "Financial Banking Statistics", "Banking", "Bank Management", "Economics of Foreign Companies", "Economics and Management in JSC" "Financing and Crediting of Investments", "Economics of Nature Management", "Organization of Production", "State Financial Regulation", "Corporate Finance", "Finance", "Financial Markets and Intermediaries", "Enterprise Economics", "History of Economic Exercises" on State language.
Language Proficiency
Russian – fluent
Kazakh – mother tongue
English – conversational level
Computer Skills: Microsoft Word, Exсel, Power Point, Photo shop, Corel Draw, Visual Basic, C sharp, Borland Delphi, 3D max.
Delphi, 3D max.