"Foreign language" Department Head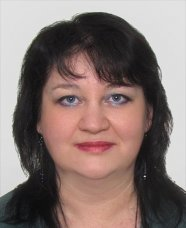 Full name: Y.V.Novitskaya, M.Ed.,
Head of the Foreign Languages Department
Address: M.Gorkiy. 76, room 406
e-mail: ynovitskaya@gmail.com
Phone number: 8/7232/50-28-33
Yuliya V. Novitskaya, born in 1971. Higher education, M.Ed.. Total length of pedagogical service is 23 years. In 1993, she graduated from East Kazakhstan State University, Faculty of Foreign Languages; was awarded with qualification of teacher of English and German languages. After graduation, she began working as a lecturer of Practical Course of English Department in East Kazakhstan State University. In 1996 she was promoted to the position of Senior Lecturer of Language and Translation Department, EKSU, 2001 – 2003 served as Deputy Dean of Foreign Languages Faculty, ​​EKSU. In 2003 she won a scholarship of the US State Department to study Master's degree program on "Higher Education Management " in Vanderbilt University (Nashville, Tennessee, the United States). In 2005, she graduated from Vanderbilt University, received the degree of "Master of Education". Passed distance learning course on "Human Resource Management" at Letourneau University (Longview, Tex.). In June, 2014 Yuliya V. Novitskaya successfully completed in-service teacher training at Newcastle University (Newcastle, UK). In February-March 2015 she participated in «Visiting International Professor» professional development program at Warner Pacific University (Portland, Ore., USA), in August 2016 participated in professional development program in Singapore (Republic of Singapore). Y.V.Novitskaya is the coordinator of Professional Development and Coordination Centre at Kazakh American Free University as part of British Council and "Science Fund", JSC. partner program. Y.V.Novitskaya is a practicing translator (English-Russian), she performs translations and consecutive interpretations. She is a member of Republican Appeal Commission for the entrance exams in English for master's and doctoral programs. She is engaged in academic and methodical work. Y.V.Novitskaya's interests in scientific and professional areas ​​ include communicative methods in teaching foreign languages, translation training, and organizational aspects of change management in the face of reforming higher education.