Department head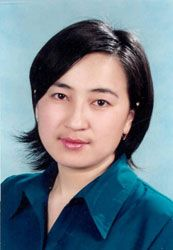 Full name: Nurlanova Asem Nurlankyzy– candidate of
philological sciences., assistant professor,
«Pedagogics and psychology» department head
Address: M.Gorkiy. 76, room 222
e-mail: anur_81@mail.ru
8/7232/50-29-45
Assem Nurlankyzy Nurlanova was born in 1981, Kazakh, higher education, PhD, assistant professor. Total work experience is 14 years. In 2002 she graduated EKSU majoring in Kazakh Language and Literature. In 2005 she received Master's degree in "Literature" at EKSU. 2002 – 2005, teacher. 2006 – 2009, head teacher. 2010, assistant professor. In 2011 acquired the position of the Head of Pedagogics and Psychology Department at KAFU.
In 2010 she successfully defended her PhD thesis in KazNPU on "Plot of "Yenlik-Kebek" in Historical and Literature Context" majoring in Kazakh Literature. During her time at the university A.N. Nurlanova's work consistently improving educational process, introducing new ideas and technologies. Under her supervision, students conduct research work, participate in university and international scientific conferences, and write Bachelor theses. Successful teaching career goes in hand with scientific researches. A.N. Nurlanova is the author of over 70 scientific articles, 2 teaching aids and monographs.
Assem Nurlanovna has high creative potential and the desire to seek new forms of improving educational process. A.N. Nurlanova is a professional with good organizational skills and active community work. She obtains qualities of a good teacher, tactful and sociable person, she is well respected among teachers and students.
She was awarded with diplomas of Culture and Language Development Department of Ust-Kamenogorsk for preserving literary heritage and promoting it across East Kazakhstan region. In 2011 she received the Letter of Gratitude from T.Tusupbekov, Akim Deputy of EKR, for the development of regional culture ideas. In 2014 she received the Letter of Gratitude from S.Z. Bayhonova, Director of EKR branch of National Center for Professional Development «Orleu» for her contribution to the solution of methodological and practical problems of continuity in "school-college-university" system. In 2014 on behalf of B. Saparbayev, Akim of East Kazakhstan region, she was awarded with diploma for long-term faultless work in higher education and a significant contribution to the training of highly qualified specialists.